Cardboard Laminating Machine
Cardboard Laminating Machine
Home > Cardboard Laminating Machine


NB-110ODX/1300DX/1450DX Fully Automatic Laminator
Sanxing company selected outstanding products in various fields,
Ensure the quality and effectiveness of your business.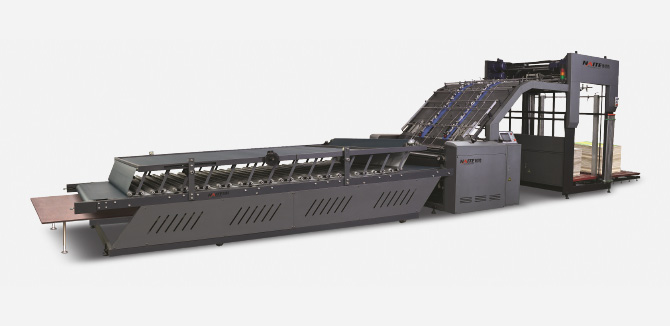 Contact us
Performance features
Fully Automatic Laminator, automatic feeding of top sheets and bottom sheets, is suitable for the high speed and automatic lamination of color printed top sheet and corrugated paperboard.
· Unique front lay with intelligent control system, ensuring accurate registration of laminating.
· Imported electric components with high quality and almost trouble-free.
· The machine adopts frequency converter for speed regulating, PLC control and analog-to-digital.
· A pre-feeding device is provided to feeder, cutting time of stopping machine and improving production efficiency.
· Suction belts for bottom sheet feeding ensure smooth and continuous delivering.
· Main motor and feeder adopt double frequency converter for speed regulating and centralized control, which enables synchrony lamination.
· The machine is suitable for 120-500g glossy paper with A / B / C / E / F corrugated paste.
Technical parameters
Model
Max. Sheet Size
Min. Sheet Size
Speed

Top Sheet Material
Bottom Sheet Material
Laminating Accuracy
Paper Feeding Height
Total Power
Weight
Overall Dimensions

NB-1100DX
1100x 1100mm
400x400mm
面纸 0-51m/min
贴合 0-153m/min
120-500g/m2
A/B/C/E/F型瓦楞纸板,厚度≤4mm
±1mm
1700mm
16kw
5.8T
12670x1740x2600mm

NB-1300DX
1300x1200mm
400x400mm
面纸 0-51m/min


贴

合 0-153m/min
120-500g/m2
A/B/C/E/F型瓦楞纸板,厚度

≤

8m
±1mm
1700mm
16kw
6.5T
12670x1940x2600mm

NB-1450DX
1450x1200mm
400x400mm
面纸 0-51m/min
贴合 0-153m/min
120-500g/m2
A/B/C/E/F型瓦楞纸板,厚度

≤

4mm
±1mm
1700mm
16kw
7T
12670x2090x2600mm

Product chart
Glossy side positioning
Pneumatic glossy side of the lateral push specified bit, greatly improving the tissues lateral positioning accuracy and ensure the quality of fit.
Touch-screen operating system
Touch screen centralized control, high-resolution man-machine interface man-machine dialogue, the machine is running or fault status display real-time dynamic monitoring, adjustment and troubleshooting the machine even more convenient.
Transmission
Special high-speed flat belt drive, smooth lubrication-free, shock-absorbing cushion low noise. Unique overload safety mechanism to prevent accidental damage rolls
Prev:NB-1100DZ-1650DZ Fully Automatic Front-suction Laminator
Back
Next:GK-1200PCS/1450PCS Four Six Corner Gluing Folding Machine