Offset Printing Press
Offset Printing Press
Home > Offset Printing Press

XJ5142
large Format 5-color Sheet-fed Offset Printing Press
Sanxing company selected outstanding products in various fields,
Ensure the quality and effectiveness of your business.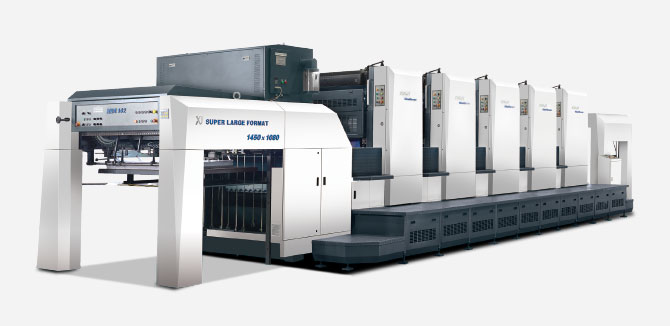 Contact us
Performance features
Gianthrone series large format and super large format printing presses are developed by Xinovo and designed with unit configuration and the proven "70'colock" cylinder arrangement. Equipped with double sized impression cylinders, flat transfer drums, remote inking control system, alcoholic dampening system, semi-automatic pneumatic plate change system(in K series presses), the presses are available in 1300, 1420 and 1620 series and in double color, 4-color, 5-color and 6-color versions. Coating and extended delivery units can also be lined into Gianthrone series large format printing presses as options. The presses are versatile, suitable for packaging printing, commercial printing and many other applications.
Technical parameters
Model
Max. sheet size
Min. sheet size
Paper thickness
Max. printing size
Plate size
Blanket size(with aluminum clip)
Covering size
Max. speed of the press
Feeder pile height above floor
Delivery pile height above floor
Main motor power (2-color/4-color)
Total power (2-color/4-color)
Net weight (2-color/4-color)
Overall dimensions (2-color/4-color)

巨色龙1620


1620x 1020mm
1050x600mm
0.1〜0.6mm
1620x 1010mm
1630x1105x0.3mm
1630x 1330x1.95mm
1630x1100xlmm
7000sh/h
1150mm
1050mm
37kw/45kw
56.2kw/67.8kw
33500kg/59500kg
9000/12130x4970x2750mm

巨色龙1420
1420x 1100mm
850x 600mm
0.1 〜0.6mm
1420x 1010mm
1430x1105x0.3mm
1430xl330xl.95mm
1430x1100xlmm
9000sh/h
1150mm
1050mm
22kw/45kw
41.2kw/67.8kw
31500kg/56500kg
9000/12130x4770x2750mm

巨色龙1300
1300x 1080mm
730x 500mm
0.1 〜0.6mm
1300x 1010mm
1310x1105x0.3mm
1310xl330xl.95mm
1310x1045xlmm
lOOOOsh/h
1150mm
1050mm
22kw/45kw
38.61kw/55.31kw
30500kg/54500kg
9000/12130x4650x2750mm

Prev:NB110OD/1300D/1450D Semi-Automatic Flute-Laminator Machine
Back
Next:GK-1200PCS/1450PCS Four Six Corner Gluing Folding Machine