Gift and Cover Equipment Serie
Gift and Cover Equipment Series
Home > Gift and Cover Equipment Serie

S600A Automatic Rigid Box Making Machine
Sanxing company selected outstanding products in various fields,
Ensure the quality and effectiveness of your business.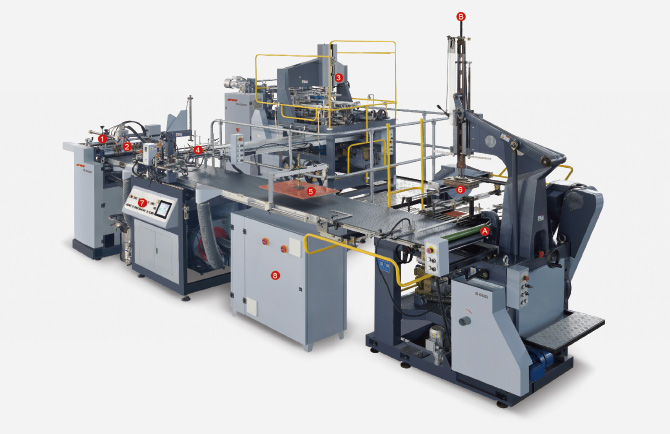 Contact us
Performance features
S600 Fully automatic rigid box making machine is the best equipment to make top grade rigid box. Reasonable design and credible performance. It consists of feeder part, corner pasting part, gluing part, positioning part and wrapping part. The machine adopts advanced programmable logic controller, photoelectric tracking system, accurate hydraulic pneumatic deviation correcting system, and convenient touch screen human machine interface (Chinese and English operating panel), etc, to achieve automatic cardboard and paper delivery, four corners pasting, paper gluing, auto conveyance, positioning, pressing, automatic box drawing and catching. wrapping and all the work done consecutively just in one time to achieve high speed production. It achieves fully automatic production via on-line operation of machinery,hydraulic,pneumatic and electronics system, and so on .increased production efficiency many time, innovated the convention rigid paper box production, more than 30 timeshare production efficiency was improved compared with traditional technology. This machine is widely used to making shoestring box, shirt box, jewelry box, gift box and other luxurious paper boxes.
Technical parameters
| | | |
| --- | --- | --- |
| 型号 | Model | S600 A |
| A最小面子尺寸 | A Min Paper Wrap Size | 95 mm |
| A最大面子尺寸 | A Max Paper Wrap Size | 610 mm |
| B最小面子尺寸 | B Min Paper Wrap Size | 180 mm |
| B最大面子尺寸 | B Max Paper Wrap Size | 850 mm |
| C纸张尺寸 | C Cardboard Size | 600 mm |
| D纸张尺寸 | D Cardboard Size | 800 mm |
| 面子厚度 | Paper Wrap Thickness | 100 – 200 g/m² |
| T纸张厚度 | T Cardboard Thickness | 0.8 – 3 mm |
| W最小纸盒尺寸 | W Min Finished Box Size | 50 mm |
| W最大纸盒尺寸 | W Max Finished Box Size | 400 mm |
| L最小纸盒尺寸 | L Min Finished Box Size | 100 mm |
| L最大纸盒尺寸 | L Max Finished Box Size | 600 mm |
| H最小纸盒尺寸 | H Min Finished Box Size | 15 mm |
| H最大纸盒尺寸 | H Max Finished Box Size | 150 mm |
| R最小折边尺寸 | R Min Turn in depth | 7 mm |
| R最大折边尺寸 | R Max Turn in depth | 60 mm |
| 最大折耳尺寸 | Max Turn in depth | 125 mm |
| 定位精度 | Position Precision | ± 0.5 mm |
| 生产速度 | Production Speed | ≤ 35 sheets/min |
| 面纸堆放高度 | Paper Pile Height | 300mm |
| 纸板堆放高度 | Cardboard Electrical | 1000mm |
| 电气功率 | Power Pile Height | 16kW/380V/3phase |
| 胶水桶容器 | Glue Tank Capacity | 60L |
| 气源要求 | Air consumption | 12L/min0.6Mpa |
| 机器重量 | Machine weight | 6800 KGS |
| 整机尺寸 | Machine dimension | 6600 x 4100 x 3250 mm |
Product chart
Prev:BD460B Automatic Rigid Box Making Machine
Back
Next:GK-1200PCS/1450PCS Four Six Corner Gluing Folding Machine